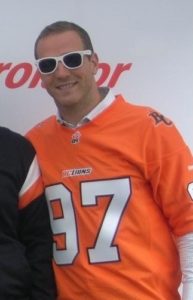 Kicker Hank Ilesic of Edmonton, Alberta, defensive end Brent Johnson of Kingston, Ontario, and guard Scott Flory of Regina, Saskatchewan were inducted into the Canadian Football Hall of Fame in Hamilton, Ontario on Saturday. They were among those honoured at Tim Hortons Field where the Calgary Stampeders beat the Hamilton Tiger-Cats 43-28.
Flory, was originally drafted in the third round, 15th overall, by the Montreal Alouettes in the 1998 CFL Draft. A product of the University of Saskatchewan Huskies, Flory played 15 seasons with the Alouettes from 1999-2013. During that time he played 241 regular season games and was named the most outstanding offensive lineman twice–in 2008 and 2009. Flory also won three Grey Cups with the Alouettes (2002, 2009, 2010) and was a CFL all-star nine times–in 2002, 2003, 2005, 2006, 2007, 2008, 2009, 2010 and 2012.
Ilesic played for the Edmonton Eskimos from 1977-1982 and 2001, the Toronto Argonauts from 1983-1993, the Hamilton Tiger-Cats from 1994-1995 and the British Columbia Lions in 1998. A seven-time Grey Cup champion (five times with the Eskimos from 1977-1982 and twice with the Argonauts in 1983 and 1991), Ilesic holds the CFL record for most Grey Cups in CFL history won as a player. A CFL All-Star with the Argonauts in 1991 and 1992, In 1986, Ilesic had 8004 yards punting, the second most yards punting in a CFL season. He finished his career with 91 753 yards punting (third most in CFL all-time).
Johnson played for the British Columbia Lions from 2001-2011. A two-time Grey Cup champion in his rookie season and final CFL season, Johnson was the CFL's most outstanding Canadian in 2005 and 2006, and the CFL's most outstanding defensive player in 2006. A CFL All-Star in 2005, 2006 and 2008, Johnson holds the Lions all-time record in sacks (89) and twice led the CFL in sacks–2005 with 17 and 2006 with 16. He also had 277 tackles, 16 fumbles and four interceptions.
Meanwhile Frank Cosentino of Hamilton, Ontario will go into the Canadian Football Hall of Fame in the builder's category. An author of three books about the CFL, Cosentino quarterbacked the Hamilton Tiger-Cats, Edmonton Eskimos and Toronto Argonauts from 1960-1969. He won two Grey Cups with the Tiger-Cats in 1963 and 1965.
Other inductees included Montreal Alouettes center Tommy Hugo, and former Lions and Alouettes defensive back Barron Miles. In CFL action this past weekend, University of Carleton product Tunde Adeleke had a 20 yard fumble return for a touchdown in a 43-28 Calgary Stampeders win over the Hamilton Tiger-Cats on Saturday. In other action, the Lions beat the Alouettes 32-14 and the Ottawa Redblacks beat the Saskatchewan Roughriders 30-25.