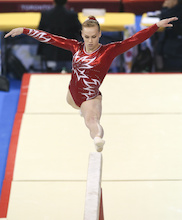 Team Canada has won a second silver medal on Monday at the 2017 Summer Universiade in Taipei, Taiwan. The Canadian team of Ellie Black of Halifax, Nova Scotia, Brittany Rogers of Calgary, Alberta, Jessica Dowling of Dundas, Ontario, Denelle Pedrick of Wilcox, Saskatchewan and Briannah Tsang of Burnaby, British Columbia won the silver medal in the women's team gymnastics competition.
Team Canada had 161.1 total points. Russia won the gold medal with 163 points and Japan won the bronze medal with 159.9 points. The Canadians reached a podium spot by 7.35 points over Germany, who finished in fourth place with 153.75 points.
Even though five Canadian women won the silver medal, a major reason why Canada earned a podium spot was the brilliant skill of Black. The maritimer who is a three-time Pan American Games gold medalist and 2014 Commonwealth Games gold medalist, had the highest individual rank of all of the gymnasts in the competition with 56.05 points. The second best was Olympic bronze medalist Larisa-Andreea Iordache of Romania, who had 55.7 points. Iordache won the bronze medal in the women's team competition at the 2012 Olympic Games in London.
Black's best discipline was the balance beam, the same discipline where she is the reigning Commonwealth Games gold medalist and Pan American Games gold medalist. Black posted a score of 14.4 points, the highest score on the beam in the women's competition. Black was also second on the vault with 14.525 points.
Black and Dowling attend Canadian universities, while Rogers, Pedrick and Tsang attend American universities. Black attends Dalhousie University. Dowling attends the University of Guelph. Rogers goes to the University of Georgia. Pedrick is at Central Michigan and Tsang attends Penn State.