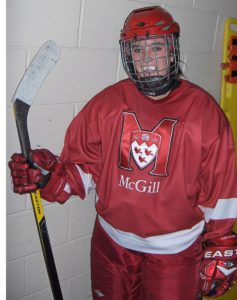 Team Canada has won the silver medal in Olympic women's hockey. On Thursday, Team Canada lost 3-2 in a shootout to the United States in the gold medal game of the 2018 Olympic Winter Games in Pyeongchang. 
The United States were led by twin sisters Jocelyne Lamoureux-Davidson and Monique Lamoureux-Morando. With Canada leading 2-1 in the third period, Monique Lamoureux-Morando tied the game with 6:21 left in the third period. Then, Jocelyne Lamoureux-Davidson scored the shootout winner in the sixth round to give the United States the victory, Unlike the National Hockey League, Jocelyne Lamoureux-Davidson was credited with a goal.
The Lamoureux twins also have a Canadian connection and could have represented Canada in international women's hockey rather than the United States. That is because their father Jean-Pierre is Canadian and moved to the United States because he was a goaltender for the University of North Dakota from 1979 to 1983.
It may be only a silver medal, but Team Canada did record its country's 22nd medal of the 2018 Olympic Winter Games in Pyeongchang. Their leading point producer throughout the tournament was Melodie Daoust of Valleyfield, Quebec. The McGill University product was joined on the Canadian Olympic women's hockey team by Meghan Agosta of Windsor, Ontario, Laura Fortino of Hamilton, Ontario, Haley Irwin of Thunder Bay, Ontario, Brianne Jenner of Oakville, Ontario, Rebecca Johnston of Sudbury, Ontario, Genevieve Lacasse of Kingston, Ontario, Jocelyne Larocque of Ste. Anne, Manitoba, Meaghan Mikkelson of St. Albert, Alberta, Marie-Philip Poulin of Beauceville, Quebec, Lauriane Rougeau of Beaconsfield, Quebec, Natalie Spooner of Scarborough, Ontario, Shannon Szabados of Edmonton, Alberta, Jennifer Wakefield of Pickering, Ontario, Ann-Renee Desbiens of La Malbaie, Quebec, Brigette Lacquette of Mallard, Manitoba, Renata Fast of Burlington, Ontario, Laura Stacey of Kleinburg, Ontario, Jillian Saulnier of Halifax, Nova Scotia, Bailey Bram of Ste. Anne, Manitoba, Sarah Nurse of Hamilton, Ontario, Emily Clark of Saskatoon, Saskatchewan and Blayre Turnbull of Stellarton, Nova Scotia.