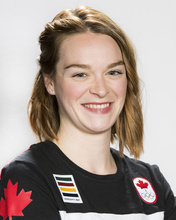 Kim Boutin of Sherbrooke, Quebec won a silver medal for Canada in the women's 1000 metres short track speed skating event at the 2018 Olympic Winter Games in Pyeongchang on Thursday. It was Boutin's third medal for Canada at the 2018 Olympic Winter Games as she also won a bronze medal in the women's 500 metres and women's 1500 metres.
In the final, Boutin posted a time of 1:29.956. Suzanne Schulting of the Netherlands won the gold medal with a time of 1:29.778. Arianna Fontana of Italy won the bronze medal with a time of 1:30.656.
Boutin reached the Olympic podium by 12.478 seconds over fourth place finisher Min-jeong Choi of South Korea. Choi and her South Korean teammate Suk-hee Shim collided with one another near the end of the race, and allowed Boutin, Schulting and Fontana to compete for the Olympic medals.
Boutin qualified for the quarterfinals by winning the eighth heat. She also won the first heat in the quarterfinals, in a heat that saw Canadian Olympic silver medalist Marianne St-Gelais finish third and unable to reach the semifinals. In the semis, Boutin won the first heat in a heat that saw Valerie Maltais eliminated because of a penalty.
Boutin will now prepare for the World Short Track Speed Skating Championships in Montreal. That will take place next month at the Maurice Richard Arena from March 16-18.