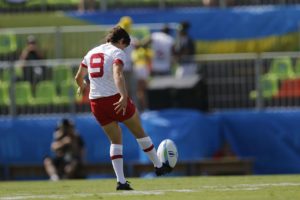 Team Canada won its fourth consecutive medal in the World Rugby Women's Sevens Series on Sunday. The Canadians won the silver medal and was only behind New Zealand in the series stop in Sydney, Australia.
The Canadian team won all three of its Pool B matches. They defeated Brazil 33-10, Fiji 20-14 and the United States 21-7. In Canada's win over Brazil, they got tries from Elissa Alarie of Trois-Rivieres, Quebec, Sara Kaljuvee of Toronto, Ontario, Julia Greenshields of Sarnia, Ontario, Karen Paquin of Quebec City, Quebec and Kayla Moleschi of Williams Lake, British Columbia.
In Canada's win over Fiji, Canada got tries from Ghislaine Landry and Charity Williams of Toronto, Ontario, Bianca Farella of Montreal, Quebec and Keyara Wardley of Vulcan, Alberta. In Canada's win over the United States, they got tries from Farella, Landry and Williams.
Then came the semifinal and Canada's opponent was Australia. This could be considered as one of the finest moments in the history of Canadian rugby. Team Canada just did not beat the rugby power of Australia on their home pitch, they annihilated them by a score of 34-0. The Canadian team got two tries from Wardley, and one each from Kaili Lukan of Barrie, Ontario, Landry, Farella and Paquin.
Canada then lost 33-7 to New Zealand in the gold medal game. Australia beat France 12-10 to win bronze. Canada is in second in the Women's World Rugby Sevens Series standings with 80 points. New Zealand leads with 96 points. The silver medal in Australia for Canada will give them confidence as they prepare for the 2020 Olympic Games in Tokyo.