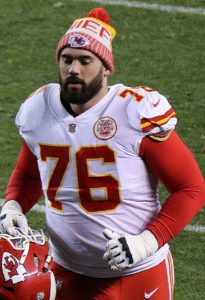 According to TSN on Sunday, Dr. Laurent Duvernay-Tardif of Saint-Jean-Baptiste, Quebec became only the 12th Canadian all-time to win a Super Bowl. In the National Football League's championship game from the Hard Rock Stadium in Miami, Florida, Duvernay-Tardif was the starting right guard for the Super Bowl champion Kansas City Chiefs. The Chiefs won only their second Super Bowl in franchise history, as they defeated the San Francisco 49ers 31-20.
Duvernay-Tardif received his degree in medicine and masters in surgery from McGill University. In a very controversial decision by the National Football League, he was not allowed to put M.D. on the back of his jersey.
The other 11 Canadians to win a Super Bowl are Pittsburgh Steelers punter Mitch Berger of Kamloops, British Columbia (2009), Steelers kicker Roy Gerela of Sarrail, Alberta (1975, 1976, 1979), 49ers offensive lineman Allan Kennedy of Vancouver, British Columbia (1982, 1985), Dallas Cowboys kicker Eddie Murray of Halifax, Nova Scotia (1994), Seattle Seahawks punter Jon Ryan of Regina, Saskatchewan (2014), Washington Redskins quarterback Mark Rypien of Calgary, Alberta (1988, 1992), Seahawks tight end Luke Willson of LaSalle, Ontario (2014), 49ers punter Klaus Wilmsmeyer of Mississauga, Ontario (1995), Denver Broncos defensive lineman Harald Hasselbach of North Delta, British Columbia (1998 and 1989), Redskins defensive lineman Marcus Koch of Kitchener, Ontario (1988) and St. Louis Rams centre Tom Nutten of Magog, Quebec (2000). Rypien was named Super Bowl MVP in 1992 as the Redskins beat the Buffalo Bills 37-24. Rypien completed 18 of 33 passes for 292 yards and two interceptions.