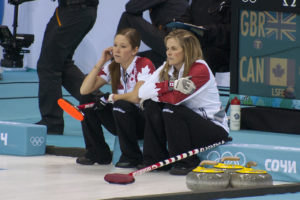 Team Canada, led by skip Jennifer Jones of Winnipeg, Manitoba, is a perfect 6-0 at the 2018 Women's World Curling Championship in North Bay, Ontario.
The Canadians are one of two unbeaten teams in the tournament so far as Sweden's Anna Hasselborg, the Olympic gold medalist from the 2018 Olympic Winter Games in Pyeongchang is also unbeaten at seven wins and zero losses.
There have been two constant themes for Team Canada to date. The first is they have got off to slow starts, but have been patient and have a had a strong second half of their games when they have got into trouble. The second is that they have generated a lot of offense (56 points in six games).
So far Canada has beaten the Czech Republic 11-5, Switzerland 10-5, Germany 8-1, China 9-5, Denmark 10-5, and Scotland 8-6. In Canada's games against China and Scotland, they were trailing in each (3-2 to China after five ends and 6-4 to Scotland after six ends), but in each contest were able to rebound with a big three ender to take control of each contest.
Canada will have a very difficult test on Wednesday. They play the Olympic silver medalists, skipped by Kim Eun-jung of South Korea in the afternoon, and then Hasselborg in the evening. South Korea's record is 5-1, with their only loss coming to Sweden by a score of 9-7 on Monday night.