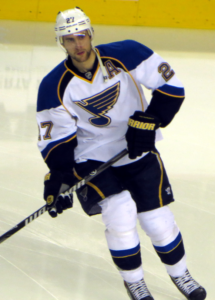 Canadian Olympic gold medalist Alex Pietrangelo of the St. Louis Blues has been named the National Hockey League first star of the week for the week from March 12 to March 18.  Pietrangelo had three goals and six assists for nine points in four games as the Blues went 3-1 in their four game stretch.
A native of King City, Ontario, Pietrangelo also had a zero plus/minus rating, three power play points, 15 shots on goal, one hit and 13 blocked shots.
Pietrangelo had two assists in a 4-2 win over the Anaheim Ducks on March 12, two goals and one assist for three points in a 4-3 win over the New York Rangers on March 17 and one goal and three assists for four points in a 5-4 win over the Chicago Blackhawks on March 18. The four point night against the Blackhawks was a career high.
With Pietrangelo leading the Blues blueline, the Blues are trying to get themselves back into the playoff race in the Western Conference. At 83 points, they are five points back of the Colorado Avalanche for fourth place in the Central Division.
Pietrangelo won a gold medal for Canada in men's hockey at the 2014 Olympic Winter Games in Sochi. In six games, Pietrangelo notched one assist.