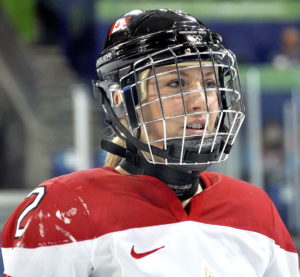 The Canadian roster has been named for the 2018 Olympic Winter Games in Pyeongchang in women's hockey. Canada has won the gold medal in women's hockey in each of the last four Olympic Winter Games and has momentum heading into South Korea, having dominated the United States in a series of pre-Olympic games throughout North America over the last two months.
Of the 23 players who made Team Canada, 13 won a gold medal at the 2014 Olympic Winter Games in Sochi. They are Meghan Agosta of Windsor, Ontario, Laura Fortino of Hamilton, Ontario, Haley Irwin of Thunder Bay, Ontario, Brianne Jenner of Oakville, Ontario, Rebecca Johnston of Sudbury, Ontario, Genevieve Lacasse of Kingston, Ontario, Jocelyne Larocque of Ste. Anne, Manitoba, Meaghan Mikkelson of St. Albert, Alberta, Marie-Philip Poulin of Beauceville, Quebec, Lauriane Rougeau of Beaconsfield, Quebec, Natalie Spooner of Scarborough, Ontario, Shannon Szabados of Edmonton, Alberta and Jennifer Wakefield of Pickering, Ontario.
There are also six gold medalists from the 2010 Olympic Winter Games in Vancouver. They are Agosta, Irwin, Johnston, Mikkelson, Poulin and Szabados. Agosta also won a gold medal for Canada at the 2006 Olympic Winter Games in Turin.
The new players on the Olympic team this year are Ann-Renee Desbiens of La Malbaie, Quebec, Brigette Lacquette of Mallard, Manitoba, Renata Fast of Burlington, Ontario, Laura Stacey of Kleinburg, Ontario, Jillian Saulnier of Halifax, Nova Scotia, Melodie Daoust of Valleyfield, Quebec, Bailey Bram of Ste. Anne, Manitoba, Sarah Nurse of Hamilton, Ontario, Emily Clark of Saskatoon, Saskatchewan and Blayre Turnbull of Stellarton, Nova Scotia.
Team Canada will be in a pool with Canada, Finland and the Olympic Athletes from Russia. All teams from the pool advance to the medal round with the top two teams from Canada's pool advancing directly to the semi-finals. The gold medal game will be played February 22.