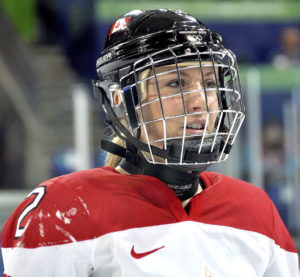 Team Canada has improved to a record of two wins and zero losses in women's hockey at the 2018 Olympic Winter Games in Pyeongchang. On Tuesday, Canada came away with an impressive 4-1 win over Finland, the same nation that defeated Canada 4-3 in the preliminary round of the 2017 Women's World Hockey Championship in Plymouth, Michigan.
Team Canada's start could not have been any better. Meghan Agosta of Windsor, Ontario scored 35 seconds into the game to give Canada a 1-0 lead. Just like their game against the Olympic Athletes from Russia, Canada dominated puck possession against Finland in the first period They got another first period goal from Marie-Philip Poulin of Quebec City, Quebec and outshot Finland 14-5.
Canada then had second period goals from Melodie Daoust of Salaberry-de-Valleyfield, Quebec and Jillian Saulnier of Halifax, Nova Scotia, who put Canada up 4-0 with a breakaway goal. Riikka Valila added a third period goal for Finland at the 7:17 mark to break the Shannon Szabados shutout. Canada was led in scoring by Daoust and Agosta, who each had one goal and one assist for two points.
Team Canada next plays their biggest hockey rival, the United States on Wednesday evening at 8pm MT. Like Canada, the United States are 2-0. They defeated Finland 3-1 and the Olympic Athletes from Russia 5-0.