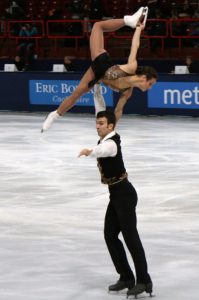 There is no doubt that Meagan Duhamel of Sudbury, Ontario and Eric Radford of Winnipeg, Manitoba need an excellent free skate at the 2018 Olympic Winter Games in Pyeongchang in order to win Olympic bronze for Canada on Wednesday.  Duhamel and Radford are currently in third place, but with so many teams behind them in the standings, the margin of error is minimal.
Duhamel and Radford have 76.82 points after Tuesday's short program. They skated to a clean program but their side-by-side jumps could have been executed with more unison than they were.
The team that is breathing down Radford and Duhamel's necks are Aliona Savchenko and Bruno Massot of Germany. The reigning world championship silver medalists and the 2018 ISU Grand Prix Final champions, Savchenko and Massot have the season's best score of 236.68 points, meaning they have the capability of putting down an excellent free skate. The reason why Savchenko and Massot, at 76.59 points, are behind Duhamel and Radford is because Massot underrotated a jump.
The other teams in Olympic medal contention are Yu Xiaoyu and Hao Zhang of China (75.58 points), Vanessa James and Morgan Cipres of France (75.34 points), Valentina Marchei and Ondrej Hotarek of Italy (74.5 points), Natalia Zabiiako and Alexander Enbert of the Olympic Athletes from Russia (74.35 points) and Nicole Della Monica and Matteo Guarise of Italy (74 points). In all, there are six teams within 2.82 points of Duhamel and Radford. Even if the Canadians skate clean, there is a possibility they will not win an Olympic medal on Wednesday.
There is also a slight possibility that Duhamel and Radford could still catch the short program leaders, Sui Wenjing and Han Cong of China (82.39) and Evgenia Tarasova and Vladimir Morozov of the Olympic Athletes from Russia (81,68 points). If Su/Han or Tarasova/Morozov falter, Duhamel and Radford have the chance to move up.