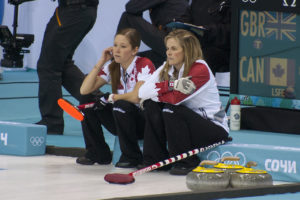 Team Canada is in the final of the 2018 Women's World Curling Championship in North Bay, Ontario. On Saturday, Team Canada defeated the United States 9-7 in the semifinals.
Canada got off to a marvelous start as the United States struggled early and jumped into a quick 3-0 lead. Canada then went up 5-1 after three ends and 6-2 after five ends. However the Jones rink did not do a good job of protecting the lead as they saw the United States take two points each in the sixth and eighth ends, forced Canada to a single point in the seventh and stole a point in the ninth to tie the game at 7 points apiece.
It was the second straight day that Canada beat the United States as they also beat the Americans 8-5 to close out the round robin on Friday night. The round robin win over the Americans helped put Canada a perfect 12-0.
Canada has gone undefeated in the round robin at the last two Women's World Curling Championships. Ottawa's Rachel Homan was a perfect 11-0 last year in Beijing before being the first Canadian team to win a Women's World Curling Championship since Jones won in 2008 in Vernon, British Columbia.
Earlier in the day on Saturday, the United States upset South Korea 10-3 and Russia 7-3 in the qualification games, which are similar to the quarterfinals. Sweden then beat Russia 7-6 in the first of two semifinals. The United States plays Russia for bronze on Sunday and Canada plays Sweden for gold.