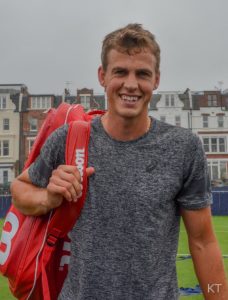 Vasek Pospisil of Vernon, British Columbia and Denis Shapovalov of Toronto, Ontario have delivered impressive victories in the second round of the 2018 Miami Open. Both Canadians have knocked off seeded players to advance to the third round of the tournament.
Pospisil beat Andrey Rublev of Russia, the 27th ranked player in the tournament, 7-6, 6-4 on Friday. Then on Saturday, Shapovalov dominated the 24th ranked Damir Dzhumur of Bosnia and Herzegovina 6-1, 7-5. The win was extremely impressive for Pospisil, who showed fascinating resiliency and patience after being down 4-0 and 5-1 in the first set.
For Pospisil to get by Rublev, it should give him a lot of confidence. Rublev made it all the way to the quarterfinals of the 2017 U.S. Open and beat formidable opponents such as Gregor Dimitrov of Bulgaria in the second round and David Goffin of Belgium in the fourth round.
Pospisil has got off to a bit of a slow start in ATP and ITF events in 2018, as he lost his first three matches–6-2, 6-2, 4-6, 7-6 to Marin Cilic of Croatia in the first round of the Australian Open, 3-6, 6-2, 6-3, 6-2 to Borna Coric of Croatia in the first round of Davis Cup, and 6-2, 7-6 to the rising Canadian star Felix Auger-Aliassime of Montreal in the first round of Indian Wells.
However Pospisil has put positive things together in Miami. In addition to his win over Rublev, he also beat former Wimbledon quarterfinalist Ivo Karlovic of Croatia 7-6, 7-6 in the first round in Miami on Wednesday. It has been a while since Pospisil made some significant noise in international tennis, but Canadian fans have great positive memories from 2015 when he reached the quarterfinals. It will be interesting to see how Pospisil will do against Cilic for the second time this season in the third round on Sunday.
As for Shapovalov, he has now improved to 10-7 this season. Dzhumur had an excellent 2017 season after two tournament victories in Russia, but got off to a poor start against Shapovalov on Saturday and was unable to rebound. Shapovalov will now play Sam Querrey in the third round on Monday.
Meanwhile, Milos Raonic of Thornhill, Ontario has also advanced to the third round. As the 20th seed, Raonic beat Mikael Ymer of Sweden 6-3, 6-3 on Friday.