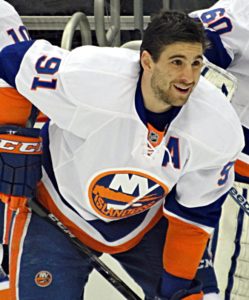 Canadian Olympic gold medalist John Tavares of Mississauga, Ontario will lead Team Canada at the 2019 World Men's Hockey Championship in Bratislava, Slovakia from May 10-26, 2019. Tavares, who led the National Hockey League with 37 even strength goals this season, won a gold medal for Canada at the 2014 Olympic Winter Games in Sochi.
Tavares meanwhile had a breakout season in his first season with the Maple Leafs. He had career highs in goals (47), points (88), plus/minus (+19), even strength goals (37), blocked shots (53) and hits (59).
Other notable forwards include Mark Stone of Winnipeg, Manitoba, who had 33 goals this season with the Ottawa Senators and Vegas Golden Knights; Sam Reinhart of Vancouver, British Columbia, who had 65 points with the Buffalo Sabres; Jonathan Marchessault of Cap-Rouge, Quebec, who had 59 points with the Golden Knights and Dylan Strome of Mississauga, Ontario, who had 57 points with the Arizona Coyotes and Chicago Blackhawks.
There is no doubt that there is exceptional offensive depth on Team Canada. The other forwards are Sean Couturier of Bathurst, New Brunswick, who is with the Philadelphia Flyers, Anaheim Ducks center Adam Henrique of Burford, Ontario, Nashville Predators center Kyle Turris of New Westminster, British Columbia, Tampa Bay Lightning right winger Mathieu Joseph of Laval, Quebec, Detroit Red Wings left winger Tyler Bertuzzi of Sudbury, Ontario, Red Wings right winger Anthony Mantha of Longueuil, Quebec, and Lightning center Anthony Cirelli of Etobicoke, Ontario. The seven defensemen are Dante Fabbro of the Nashville Predators who is from Coquitlam, British Columbia. Darnell Nurse of the Edmonton Oilers who is from Hamilton, Ontario, Shea Theodore of the Golden Knights who is from Langley, British Columbia, Damon Severson of the New Jersey Devils, who is from Melville, Saskatchewan, Troy Stecher of the Vancouver Canucks, who is from Richmond, British Columbia, Brandon Montour of the Sabres, who is from Brantford, Ontario and Thomas Chabot of the Senators, who is from Sainte-Marie-de-Beauce, Quebec. The three Canadian goalies are Matt Murray of the Pittsburgh Penguins, who is from Thunder Bay, Ontario, Carter Hart of the Philadelphia Flyers, who is from Sherwood Park, Alberta and Mackenzie Blackwood of the New Jersey Devils who is from Thunder Bay, Ontario.
Canada opens their tournament against Finland on May 10. They also play Great Britain on May 12, Slovakia on May 13, France on May 16, Germany on May 18, Denmark on May 20 and the United States on May 21. The quarterfinals are on May 23, semifinals on May 25, and finals on May 26.