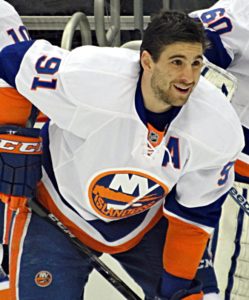 Canadian Olympic gold medalists Jonathan Toews of Winnipeg, Manitoba and John Tavares of Mississauga, Ontario delivered weekend hat tricks on the opening weekend of the 2018-19 National Hockey League regular season. Toews had his hat trick in a 5-4 Chicago Blackhawks win over the St. Louis Blues on Saturday, while Tavares had his hat trick in a 7-6 Toronto Maple Leafs win over the Blackhawks on Sunday.
Tavares has got off to a remarkable start to the 2018-19 NHL regular season, with his new team, the Toronto Maple Leafs. Tavares signed a seven year contract worth $77 million with them on July 1. In three games, Tavares already has four goals and is a +3 with 15 shots.
Toews meanwhile has got off to even a better start. He has five goals and one assist for six points and is a +4 after Chicago's first three games. Toews won a gold medal for Canada in men's ice hockey at the 2010 Olympic Winter Games in Vancouver and the 2014 Olympic Winter Games in Sochi, while Tavares won his gold medal for Canada at the 2014 Olympic Winter Games in Sochi.
It was also a strong start to the season for Canadian goaltender Braden Holtby of Lloydminster, Saskatchewan. Holtby made 25 saves for the shutout in a 7-0 Washington Capitals win over the Boston Bruins on Wednesday. It was the 33rd shutout of Holtby's career.