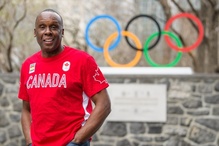 Canadian Olympic gold medalist Bruny Surin of Montreal, Quebec has been named Canada's Chef de Mission for the 2018 Summer Youth Olympic Games in Buenos Aires, Argentina. This global multi-sporting event takes place once every four years and are for athletes aged 14 to 18.
The 2018 Summer Youth Olympic Games will take place in Argentina from October 6-18. Athletes will compete in 241 events in 32 sports. In 2010 in Singapore, Canada won 12 medals in the very first Summer Youth Olympic Games. In 2014 in Nanjing, China, Canada won seven medals.
Of the 19 Canadian medalists at the first two Summer Youth Olympic Games, three were gold medalists. Team Canada's three gold medals all came at the 2010 Summer Youth Olympic Games in Singapore and were won by Canadian women. The gold medalists were Rachel Nicol of Regina, Saskatchewan (women's 50 metre breaststroke swimming), Tera van Beilen of Mississauga, Ontario (women's 100 metre breaststroke swimming) and Dorothy Yeats of Montreal, Quebec (women's 70 kilogram wrestling).
Surin meanwhile won a gold medal in the men's 4x100m relay track and field event at the 1996 Olympic Games in Atlanta.The win is considered one of the greatest moments in Canadian sports history. Surin teamed with Robert Esmie of Sudbury, Ontario, Glenroy Gilbert of Ottawa, Ontario, Donovan Bailey of Oakville, Ontario and Carlton Chambers of Mississauga, Ontario.