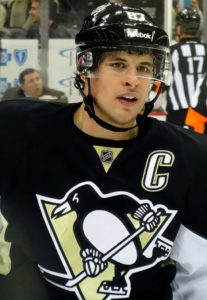 Two-time Canadian Olympic gold medalist Sidney Crosby of Cole Harbour, Nova Scotia recorded his seventh multi-point game of the 2018 Stanley Cup Playoffs on Thursday. Crosby had two assists as the Pittsburgh Penguins beat the Washington Capitals 3-1 in game four of their best out of seven second round playoff series. With the win, the Penguins tied the Capitals at two games apiece.
Both of Crosby's assists in game four came on goals by Jake Guentzel. The first assist was at 9:21 of the second period and the second assist was with 58 seconds left in the third period on the power play. Rookie Dominik Simon recorded an assist on Guentzel's first goal and Kris Letang of Montreal, Quebec recorded an assist on Guentzel's second goal.
Crosby now has eight goals and 11 assists for 19 points in 10 playoff games in 2017-18. He is a +9 with four penalty minutes, 25 shots on goal and four power play points. The fact that Crosby has 15 of his 19 points on even strength shows just how good he has been in the 2018 Stanley Cup Playoffs.
However it should be noted that Crosby, who won a gold medal for Canada at the 2010 Olympic Winter Games in Vancouver and the 2014 Olympic Winter Games in Sochi, is not leading the Penguins in points. That nod belongs to Guentzel, who is not only leading the Penguins, but the NHL in playoff points with 21. Game five of the series is Saturday in Washington.