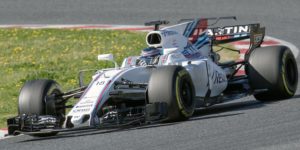 Heading into the 2017 Formula One season, there was an immense amount of hype surrounding new Canadian Formula One driver Lance Stroll of Montreal. At only 18 years of age, he signed a contract with Williams this past November and would be the youngest driver competing on the circuit this season. There was also a documentary about him on TSN titled "Growing Up Fast" before the season started in Australia in March.
Pressure? Just a little. Oh, I forgot, his father happens to be Canadian billionaire Lawrence Stroll, who made his wealth by investing in Tommy Hilfiger and Ralph Lauren.
I am always skeptical of athletes that are hyped up by the media at an immense level even before their professional careers even start. Two athletes that come to mind are Eric Lindros and Tiger Woods. In Stroll's case, he needs time. The verdict is simply not out yet.
In his first three competitions in Australia, China and Bahrain, Stroll did not finish. The next three races in Russia, Spain and Monaco, Stroll finished the races but did not collect any points as he was outside the top ten (11th, 16th and 15th respectively).
Stroll's first top ten finish came at the Canadian Grand Prix on June 11 at the historic Circuit Gilles Villeneuve in Montreal, as Stroll finished ninth. The name Villeneuve is synonymous with Formula One in Canada. Gilles Villeneuve of Saint-Jean-sur-Richelieu, Quebec won five times on the Formula Circuit before dying in a qualifying session during the Belgian Grand Prix in 1982. Gilles's son Jacques carried on the Formula One legacy when he won the Formula One World Championship in 1997, also driving for Team Williams.
The ninth place finish on Canadian soil seemed to give Stroll confidence this past weekend in Azerbaijan. On Sunday, Stroll reached the podium for the first time and finished third. He actually had a chance to finish second, but was passed near the end of the race by Finland's Valtteri Bottas. With the third place, Stroll moved to 12th in the World Drivers' Championship standings. It may take Stroll time before he is considered a Canadian auto racing superstar. However progress is being made, and at 18 years of age, and in his rookie season, that is all one should expect at the moment.