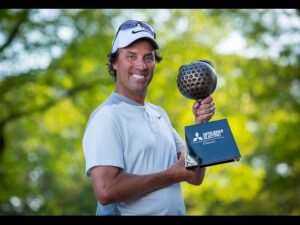 Stephen Ames of Calgary, Alberta won his second career Champions Tour golf event on Sunday. Ames won the Principal Charity Classic in Des Moines, Iowa.
According to the Associated Press, the biggest story of the weekend was the fact that Ames was able to come back and win the tournament when he was seven strokes down heading into Sunday. Tim Herron had the lead heading into the final round with a score of -14.
However on Sunday, Herron struggled mightily when he posted a score of four-over-par. This opened the door for Ames, who shot a final round score of five-under-par 67.
Ames ended the tournament with a score of -12. Ironically, he beat fellow Canadian and 2003 Masters champion Mike Weir of Sarnia, Ontario by a stroke, who finished his tournament with a score of -11. Three Americans– Willie Wood, Herron and Doug Barron tied for third place at -10. Meanwhile five more Americans tied for sixth at -9. There you found Rocco Mediate, Fred Couples, Jim Furyk, Brandt Jobe and Shane Bertsch. Of the five, Couples and Furyk are major champions. Couples won the 1992 Masters title and Furyk won the 2003 United States Open.
On Sunday, Ames had six birdies and one bogey. He birdied the third, fourth, fifth, ninth, 13th, and 15th holes, and bogeyed the 14th hole. Ames's previous Champions Tour title came at the 2017 Mitsubishi Electric Classic in Atlanta.