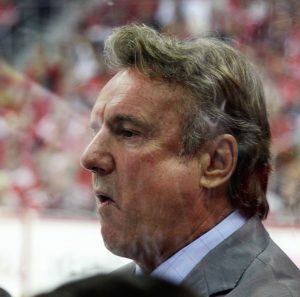 The Dallas Stars of the National Hockey League named Rick Bowness of Moncton, New Brunswick their interim head coach on Tuesday. The Stars become the sixth NHL team that Bowness has been a head coach for. He has previously coached the Winnipeg Jets, Boston Bruins, Ottawa Senators, New York Islanders and Phoenix Coyotes.
One must realize that Bowness has only coached for five NHL franchises. That is because when he coached the Jets, they were the original Jets in 1988-89. Bowness then coached the Coyotes in the 2003-04 season after Winnipeg moved to Arizona in 1995.
Bowness's finest season as head coach in the NHL came in 1991-92. That year he guided the Bruins to a record of 36 wins, 32 losses and 12 ties. Then in the the 1992 Stanley Cup Playoffs, the Bruins beat the Buffalo Sabres in seven games in the Adams Division Semi-Finals and then swept the Montreal Canadiens in the Adams Division Finals. Then in the Wales Conference Finals, the Bruins were swept by the mighty Pittsburgh Penguins.
As a NHL player, Bowness was a center, and was drafted in the second round, 26th overall, by the Atlanta Flames in the 1975 NHL Amateur Draft. He played six seasons in the NHL with the Flames, Detroit Red Wings, St. Louis Blues and Winnipeg Jets. In 173 games, Bowness had 18 goals and 37 assists for 55 points.
Bowness takes over head coaching duties from Jim Montgomery of Montreal, Quebec, who was mysteriously fired. On Wednesday, Bowness won his coaching debut with the Stars as Dallas blanked the New Jersey Devils 2-0. The Stars are currently in fourth place in the Central Division and seventh place in the Western Conference with a record of 18 wins, 11 regulation losses and three losses in extra time for 39 points.