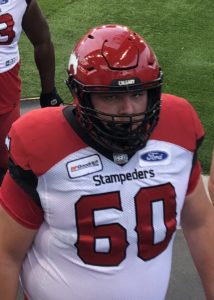 According to Daniel Austin of the Calgary Sun on Thursday, Calgary Stampeders offensive lineman Shane Bergman of Teeterville, Ontario announced his retirement at the age of 30. Bergman, who is 6'6″, 345 pounds, had been an integral part of the Stampeders offensive line in the Canadian Football League for seven seasons from 2013 to 2019.
In this time period, Bergman played 76 games, and was a CFL West All-Star and CFL All-Star in 2019. He would win two Grey Cups with the Stampeders. The first came in 2014 and the second came in 2018. In 2014, in Vancouver, the Stampeders beat the Hamilton Tiger-Cats 20-16. In 2018 in Edmonton, the Stampeders beat the Ottawa Redblacks 27-16.
A product of the University of Western, Bergman was the Stampeders' sixth-round pick, 48th overall, in the 2013 CFL Draft. The Stampeders selected offensive linemen with their first two selections that year. With the first pick, seventh overall, Calgary drafted Brander Craighead of Belleville, Ontario out of University of Texas at El Paso. Craighead played the 2014 and 2015 seasons with the Stampeders, and won a Grey Cup in 2014.
Then with the second pick, 16th overall, the Stampeders selected centre Brett Jones of Weyburn, Saskatchewan. Jones was the CFL's most outstanding rookie in 2013, and most outstanding offensive lineman in 2014. Like Craighead and Bergman, Jones won a Grey Cup with the Stampeders in 2014. Over the last six seasons, Jones has played in the National Football League. He was with the New York Giants from 2015 to 2017, and then the Minnesota Vikings over the last three seasons.