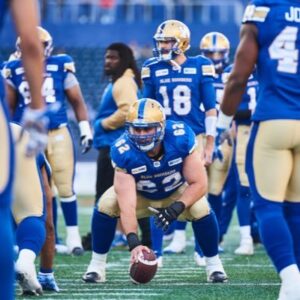 According to TSN on Wednesday, the Winnipeg Blue Bombers have traded offensive lineman Cody Speller of Castor Centre, Ontario to the Toronto Argonauts. In addition to Speller, the Argonauts will receive the Blue Bombers' sixth-round draft pick in the 2021 Canadian Football League Draft. The Blue Bombers will also receive the Argonauts' sixth-round draft pick in the 2021 CFL Draft. Prior to the trade, the Argonauts' pick in the sixth round was 48th overall, and the Blue Bombers pick was 52nd overall.
Speller initially signed with the Blue Bombers on May 19, 2017 as an undrafted free agent out of McMaster University. After being cut by the Blue Bombers, he went to the Marauders for one more season in 2017, as he had one more year left of eligibility in Canadian University football. He then played two seasons with the Blue Bombers in 2018 and 2019.
In 2018, Speller played two games with the Blue Bombers, and made his CFL debut in the 2018 Banjo Bowl, a 32-27 Winnipeg loss to the Saskatchewan Roughriders. Then in 2019, Speller played 13 regular season games with Winnipeg, including eight games starting at guard. In the 2019 CFL Playoffs, Speller played all three postseason games for Winnipeg at center, and won the 107th Grey Cup in Calgary, as the Blue Bombers beat the Hamilton Tiger-Cats 33-12.