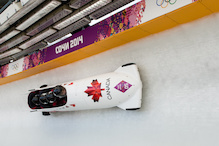 Chris Spring of Calgary, Alberta and Neville Wright of Edmonton, Alberta won the silver medal in the men's World Cup bobsled competition in Winterberg, Germany on Saturday. For Spring and Wright, it was their second straight podium finish in men's bobsled as they won the gold medal together in Whistler, British Columbia on November 24.
Spring and Wright posted a second place time in Winterberg of 1:51.76 seconds. They were actually tied for second as Francesco Friedrich and Thorsten Margis of Germany also won silver with a second place time of 1:51.76.
Clemens Bracher and Michael Kuonen of Switzerland won the gold medal with a time of 1:51.64. Spring and Wright reached the podium by the slimmest of margins as Justin Kripps of Summerland, British Columbia and Alexander Kopacz of London, Ontario finished in fourth place with a time of 1:51.79. Three Canadian bobsleds finished in the top five as Nick Poloniato of Hamilton, Ontario and Lascelles Brown of Calgary, Alberta finished in fifth place with a time of 1:51.80.
Spring is second place among drivers in the 2017-18 World Cup bobsled standings with 787 points. He only trails Kripps, who is the World Cup two-man bobsled leading driver with 804 points. The silver medal for Spring and Wright will give them confidence as they prepare for the 2018 Olympic Winter Games in Pyeongchang.