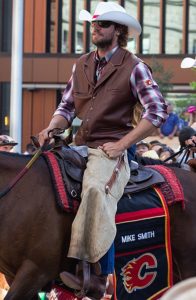 Canadian Olympic gold medalist Mike Smith of Kingston, Ontario was the star for the Calgary Flames on Thursday night in a 4-0 playoff win over the Colorado Avalanche at the Scotiabank Saddledome in Calgary, Alberta. Smith made 26 saves for his fourth career playoff shutout as the Flames took a 1-0 series lead.
Smith becomes the first goaltender to record a shutout in the 2019 Stanley Cup Playoffs. His previous three playoff shutouts came in 2012 when he had three shutouts in 16 games with the Phoenix Coyotes. Smith made 39 saves in a 4-0 win over the Chicago Blackhawks on April 23, 2012, 25 saves in a 1-0 win over the Nashville Predators on May 4, 2012 and 36 saves in a 2-0 win over the Los Angeles Kings on May 20, 2012.
In the Flames win over the Avalanche, Calgary got a game winning goal from Andrew Mangiapane of Toronto, Ontario. For Mangiapane, it was his first career playoff goal in his first career playoff game.
In the Toronto Maple Leafs 4-1 win over the Boston Bruins in game one, all four of the Maple Leafs goals came from Canadian-born players. Mitch Marner of Markham, Ontario scored twice including the game winning goal on a penalty shot. Canadian Olympic gold medalist John Tavares of Mississauga, Ontario had one goal and one assist for two points, while William Nylander of Calgary, Alberta also scored.
Smith and Tavares each won a gold medal for Canada at the 2014 Olympic Winter Games in Sochi. In other playoff action Thursday, the Washington Capitals beat the Carolina Hurricanes 4-2 in the opening game to take a 1-0 series lead.