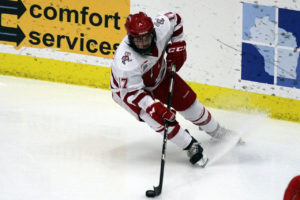 Team Canada is in the semifinals of the 2019 Women's World Hockey Championship in Espoo, Finland. On Thursday, Canada trounced Germany 5-0 in one of four quarterfinals.
Emerance Maschmeyer of Bruderheim, Alberta made nine saves for the shutout. Meanwhile, Blayre Turnbull of Stellarton, Nova Scotia scored two goals, Canadian Olympic gold medalist Brianne Jenner of Oakville, Ontario scored one goal and one assist for two points, and Brigette Lacquette of Dauphin, Manitoba had two assists. The other Canadian goal scorers were Laura Stacey of Mississauga, Ontario and Canadian Olympic gold medalist Natalie Spooner of Scarborough, Ontario. Jenner and Spooner won a gold medal for Canada in women's hockey at the 2014 Olympic Winter Games in Sochi.
In the other quarterfinals, Finland beat the Czech Republic 3-1, the United States shutout Japan 4-0 and Russia beat Switzerland 3-0. Canada will now play Finland in one semifinal on Saturday with the United States and Russia in the other semifinal. Please note that the Canada and Finland game will take place first at 7 a.m. MT. The time is a surprise because one would have thought that Finland being the home team, would have played in the evening instead of the afternoon in Finland. However if Finland does upset Canada, they will have more time to rest for the gold medal game than the United States or Russia will have.