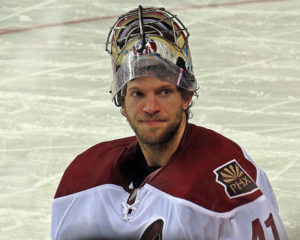 Canadian Olympic gold medalist Mike Smith of Kingston, Ontario delivered a shutout for the Calgary Flames on Tuesday. Smith, who won a gold medal for Canada in men's ice hockey at the 2014 Olympic Winter Games in Sochi, made 43 saves as the Flames upset the Nashville Predators 3-0 at the Bridgestone Arena in Nashville, Tennessee.
Smith made seven saves in the first period, 21 saves in the second period and 15 saves in the third period. The Predators outshot the Flames 43-27. It was the 37th save of Smith's career and fourth as a member of the Calgary Flames.
It was Calgary's second win of the season after the team beat the Vancouver Canucks 7-4 on Saturday. The Flames lost 5-2 to the Canucks in their regular season opener. Offensively, the Flames have also got some timely scoring from Sean Monahan of Brampton, Ontario. Monahan leads the Flames with four goals including two goals in Calgary's win over Nashville.
Also on Tuesday, two Canadians performed admirably for the Toronto Maple Leafs. Mitch Marner of Markham, Ontario and Morgan Rielly of Vancouver, British Columbia each collected four points in the Maple Leafs' 7-4 win over the Dallas Stars. Marner had one goal and three assists and Reilly had four assists. The Maple Leafs lead the Atlantic Division at the moment with three wins and one loss for six points.