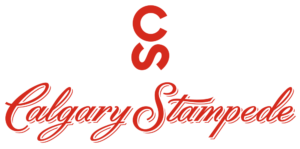 Six Canadian cowboys advanced to the Sunday Showdown of the 2018 Calgary Stampede. They were saddle bronc riders Clay Elliott of Nanton, Alberta and Zeke Thurston of Big Valley, Alberta, bareback riders Clint Laye of Cadogan, Alberta and Jake Vold of Airdrie, Alberta, tie-down roper Kyle Lucas of Carstairs, Alberta and steer wrestler Cody Cassidy of Donalda, Alberta. The cowboys qualified for the Sunday Showdown by placing in the top four in aggregate earnings in Pool A.
In the saddle bronc, Thurston and Elliott finished second and third respectively on Monday. Thurston had a score of 87 points and Elliott had a score of 84.5 points. In the bareback, Laye moved into the top four in the aggregate standings with a third best score of 83.5 points.
In the tie-down roping, Lucas had the second best time of seven seconds. In the process he moved past Al Bouchard of Scandia, Alberta into fourth place in the aggregate standings. Bouchard moved out of the top four after he was unable to register a time on Monday.
In steer wrestling, Cassidy had a 10 second penalty and finished with a time of 14.4 seconds on Monday. However the steer wrestler still finished third overall in Pool A and enough to be within the top four.
In chuckwagon racing, Mike Vigen of Grande Prairie, Alberta had the fastest time. While representing United Rentals Inc., Vigen had a time of one minute, 11.28 seconds.