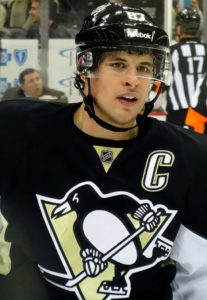 Canadian Olympic gold medalist Sidney Crosby of Cole Harbour, Nova Scotia became the 15th player in National Hockey League history to record 1500 regular season points on Saturday. He accomplished the feat on Saturday with a power-play goal at 3:01 of the third period from Kris Letang of Montreal, Quebec and Jake Guentzel in a 5-1 Penguins win over the Detroit Red Wings.
Crosby had three points in the contest as he had two goals and one assist. The gold medalist from the 2010 Olympic Winter Games in Vancouver and the 2014 Olympic Winter Games in Sochi has 550 career goals and 950 career assists. all with the Penguins.
Of the 15 NHL players who have 1500 NHL regular season points, 14 are Canadian. The other 13 Canadians are Wayne Gretzky of Brantford, Ontario (894 goals and 1963 assists for 2857 points), Mark Messier of Edmonton, Alberta (694 goals and 1193 assists for 1887 points), Gordie Howe of Floral, Saskatchewan (801 goals and 1049 assists for 1850 points), Ron Francis of Sault Ste. Marie, Ontario (549 goals and 1249 assists for 1798 points), Marcel Dionne of Drummondville, Quebec (731 goals and 1040 assists for 1771 points), Steve Yzerman of Cranbrook, British Columbia (692 goals and 1063 assists for 1755 points), Mario Lemieux of Montreal, Quebec (690 goals and 1033 assists for 1723 points), Joe Sakic of Burnaby, British Columbia (625 goals and 1016 assists for 1641 points), Phil Esposito of Sault Ste. Marie (717 goals and 873 assists for 1590 points), Ray Bourque of Montreal (410 goals and 1169 assists for 1579 points), Joe Thornton of London, Ontario (430 goals and 1109 assists for 1539 points), Mark Recchi of Kamloops, British Columbia (577 goals and 956 assists for 1533 points), and Paul Coffey of Weston, Ontario (396 goals and 1135 assists for 1531 points).
The Penguins currently have a record of 40 wins, 30 regulation losses and 10 losses in extra time for 90 points. They are one point back of the Florida Panthers and New York Islanders for the final two playoff spots in the Eastern Conference.