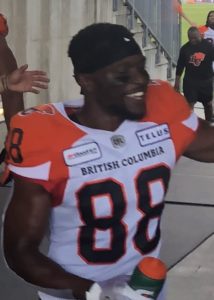 The British Columbia Lions had their high octane offense on full display on Saturday as they throttled the Toronto Argonauts 55-8 in Canadian Football League action from BC Place Stadium in Vancouver, British Columbia. Among the players who scored touchdowns for the Lions was wide receiver Shaq Johnson of Brampton, Ontario.
Johnson caught a 21 yard touchdown pass from Lions quarterback Mike Reilly. At the time, the touchdown put the Lions up 40-0. On the season the product of the University of McGill and the University of Western Ontario has caught 30 passes for 521 yards and two touchdowns. Johnson has already matched his career high in receiving yards from the 2017 Canadian Football League regular season.
The Lions are one of the hottest teams in the CFL at the moment. They have now won four straight games, with all of their victories coming against Eastern Division opponents. They beat the Ottawa Redblacks in back-to-back games by scores of 29-5 on September 13 and 40-7 on September 21, and the Montreal Alouettes 25-23 on September 28 in a nail-biting affair.
The Lions are also still in the playoff hunt. With a record of five wins and 10 losses, the Lions are only four points back of the Edmonton Eskimos for fourth place in the Western Division. The Eskimos play the Lions Saturday from Edmonton. In other Week 17 action, the Hamilton Tiger-Cats beat the Edmonton Eskimos 42-12, the Montreal Alouettes beat the Calgary Stampeders 21-17 and the Saskatchewan Roughriders beat the Winnipeg Blue Bombers 21-6.