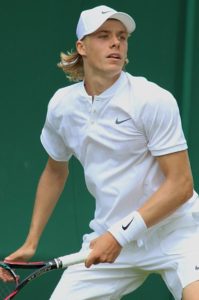 For the second time in their tennis career, Canada's two top tennis players at the moment will play against each other on the ATP Tour. On Thursday in Cincinnati, Ohio, Milos Raonic of Thornhill, Ontario will play Denis Shapovalov of Toronto, Ontario in the third round of the Western and Southern Open.
On Tuesday, Shapovalov upset Kyle Edmund of Great Britain 6-4, 7-5. Then on Wednesday, Raonic beat Malek Jaziri of Tunisia 6-3, 7-5.
The first time ever that Shapovalov played Raonic was in the third round of the Madrid Masters on May 10 from Spain. Shapovalov beat Raonic on clay in straight sets, 6-4, 6-4. Shapovalov then ironically beat Edmund in the quarterfinals 7-5, 6-7, 6-4 before losing to Alexander Zverev of Germany in the semifinals 6-4, 6-1.
Shapovalov or Raonic will not have to worry about playing Zverev in Cincinnati this week because on Wednesday, Zverev, the number three seed, was upset by Robin Haase of the Netherlands, 5-7, 6-4, 7-5 in the third round. It should be noted however that Haase steamrolled past Shapovalov in the third round of the Rogers Cup last week 7-5, 6-2, in what could be considered as one of Shapovalov's most disappointing matches of the tennis season.
The third round match between Raonic and Shapovalov in Cincinnati is scheduled for Thursday. However the match might be delayed a day or two because heavy rain is in the forecast.