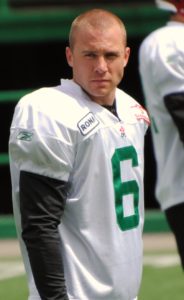 The Saskatchewan Roughriders have brought back wide receiver Rob Bagg of Kingston, Ontario. Bagg had been with the Roughriders from 2008 to 2017, but was released on June 12, before the start of the 2018 Canadian Football League regular season.
Over the last decade, Bagg played 132 regular season games in Saskatchewan. He had 364 catches for 4705 yards and 24 touchdowns. In 2017, Bagg played 17 regular season games and had 35 catches for 339 yards and one touchdown. Bagg also had two catches for 15 yards in the 2017 playoffs.
Bagg's best regular season came in 2009 when he had 59 catches for 807 yards and five touchdowns. Bagg missed the entire 2011 CFL season with an anterior cruciate ligament injury and only played three games in 2012. However Bagg bounced back for the 2013 CFL season, and won the Grey Cup with the Roughriders. Then in 2014, Bagg was a CFL Western All-Star.
At 33 years of age, Bagg is 6'0″ and 190 pounds. Prior to playing for Saskatchewan, Bagg played university football at Queen's University. On October 20, 2007, Bagg had 341 yards receiving in a 54-24 Queen's win over the University of Toronto Varsity Blues. It was the second most receiving yards by a player in Canadian university football history. The record belongs to Golden Gaels slotback James MacLean of Ottawa, Ontario who had 377 yards receiving in a 43-13 Queen's win over the University of Guelph on September 15, 2001.