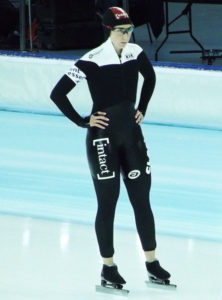 In my 10th of 10 interviews of high performance Canadian athletes who are expected to be medal contenders for Canada at the 2018 Olympic Winter Games in Pyeongchang, I am thrilled to share my interview with 2016 women's mass start world champion Ivanie Blondin of Ottawa, Ontario. Blondin also made noise at the 2017 World Speed Skating Championships in Gangneung, South Korea. On the Olympic track, she won the bronze medal in the women's 5000m.
Q: You compete in an event which will be making its Olympic debut in Pyeongchang. For those that don't know too much about mass start speed skating, what can you tell us?
A: "I would say the mass start event is kind of a mixture between long track and short track. The only differences are that (in mass start speed skating) it is a long track rink and you cannot get disqualified if you bump into someone. In the mass start event, there are pretty much no rules. It is pretty physical and tactical. I think it is going to be great for the audience to watch."
Q: When mass start speed skating received full Olympic status, what was your reaction?
A: "I was really excited. At the time, I was still trying to make my way through the cracks in the women's 3000m and 5000m. In those other distances, I didn't really see medal potential. The fact that the mass start event was an Olympic event, I thought that was my chance. Now that I have performed well, I think I have actually a chance in four disciplines to collect medals. They are the mass start, 3000m, 5000m and the team pursuit."
Q: How gratifying was it for you to win the gold medal in the women's mass start at the 2016 World Speed Skating Championships in Kolomna, Russia?
A: "That was a really big mark in my career. It was one of my biggest accomplishments. I was performing really well that season. However, once we got to the World Championships, I was really struggling. I was struggling mentally and I was struggling physically. I raced the 300m before and I just bombed it (finished 17th). It was one of my worst races in my entire career. I was supposed to skate the 5000m before the mass start race and I scratched it. I just couldn't. I had a hard time putting one foot in front of the other. Things were just not clicking. I was tired and mentally drained. I was ready for the mass start. I stepped on the line and remember thinking it was go time. I remember I was not feeling well, but it was go time because this was my race. To come home with a gold medal then when I was in that state was a huge accomplishment. It was a really proud moment for me."
Q: However you just won't be a medal contender for Canada in the mass start. At the 2017 World Speed Skating Championships in Gangneung, you won the bronze medal in the women's 5000m. How exciting was it for you to be on the podium in that race and how comfortable did you get with the Olympic track?
A: "It felt like home ice. We had a bit of a home ice advantage because the ice technicians from Calgary were actually producing the ice in Pyeongchang. It is a different stadium, but it feels like home ice. That was a huge advantage. I felt like I was at the top of my game by collecting the bronze medal in the women's 5000m last year and finishing in fourth place in the women's 3000m. I had peaked for that competition and it was a great competition for me. I felt super strong and it is crazy to think that right now, at this moment, I feel even stronger than I did last year at that point. I am really excited to see what is going to happen. In the mass start race at the World Championship, there was an unfortunate event in the last lap. A Dutch skater (Irene Schouten) fell right in front of me, right when I was to set up for the final sprint. It impeding me from the final sprint itself and that is why I didn't finish on the podium. It was really unfortunate. Those things happen and I am fortunate it happened at the World Championships and not at the Olympics."
Q: At the 2017 World Championships, Olivier Jean also found the podium. Like yourself, Olivier has been able to make the successful transition from short track to long track speed skating. Tell me about the difficulty of that transition.
A: "For me switching from short track to long track was a pretty smooth transition. I kind of had more of a hybrid technique and also I was more geared toward the longer distances. I am more of a long distance athlete. Olivier is a lot like the same. He is more of a long distance athlete than he is a sprinter, even though he has performed well in the sprint distances as well. It depends on your technique and if you are willing to put the time in when it comes to the transition. Short track speed skating and long track speed skating are completely different sports. Sometimes the transition is smooth. Sometimes it is not. It depends on the athlete."
Q: Also at the 2017 World Championships, Vincent De Haitre also won a medal. I understand the two of you are close friends because you are from the Ottawa area. How excited were you to see Vincent win silver in the men's 1000m?
A: "Vince and I grew up together speed skating. I was always a little bit older than him, but always saw him as being like a little brother, almost. Even though he was won medals on the World Cup circuit before, seeing him win a medal at the World Championships was a whole new thing. It is one step below the Olympic Games. Seeing him do that, I was so proud of him. It was such a great moment.
Q: What are your goals for the 2017-18 speed skating season?
A: "The first thing is qualifying for the Olympics, which I have half done through pre-qualifications and such. Looking at the World Cups before the Olympics, I really want to maximize in the mass start races and other disciplines. Leading into the Olympics, you just really want to prepare as much as you can and make the mistakes then if there are some to make. Hopefully at the Olympics, I can win as many medals as I can. Right now I am looking at four possibilities for medals.