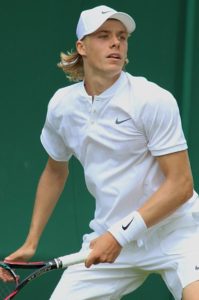 Dennis Shapovalov of Toronto, Ontario has been named the Canadian Press Male Athlete of the Year. Even though Shapovalov had a losing record playing tennis in 2017 (12-13) and was disqualified for smashing an umpire with the tennis ball, which forced Canada to withdraw from the Davis Cup, the magnitude of Shapovalov's victories made Canadian sports headlines and allowed him to win the Lionel Conacher Award.
Shapovalov had two unbelievable tournaments this summer which captivated the Canadian sports fans' attention, and gave Canadian tennis fans someone to cheer for with Milos Raonic battling injuries. At the Rogers Cup in Montreal, Shapovalov former U.S. Open champion Juan Martin Del Potro of Argentina in the second round and then stunned the legendary Rafael Nadal of Spain in the round of 16.
Shapovalov then advanced to the round of 16 of the U.S. Open at Flushing Meadows, New York. Shapovalov's most sensational win in New York City was his straight set second round win over former Australian Open finalist Jo-Wilfried Tsonga of France on Arthur Ashe stadium in prime time.
One person who should have been considered for the award but was overlooked was cross country skier Alex Harvey of Saint-Ferreol-les-Neiges, Quebec. Harvey had a great year skiing, which was highlighted by a gold medal in the men's 50km freestyle at the 2017 World Cross Country Skiing Championships in Lahti, Finland.