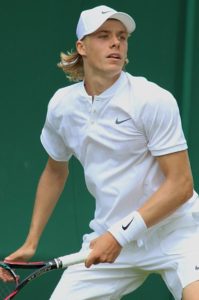 Denis Shapovalov of Vaughan, Ontario had a dominant victory in the first round of Davis Cup action Friday from Osijek, Croatia. In straight sets, Shapovalov beat Viktor Galovic of Croatia 6-4, 6-4, 6-2 to even the best of five series at one match apiece.
Shapovalov's serve was terrific in the win. He had 10 aces compared to Galovic's one. Shapovalov also showed great resiliency. In the final set when he was serving for the match, Shapovalov was down 0-40 before putting a string of points together to secure the victory.
However even though Shapovalov was marvelous on Friday, Team Canada was unable to get the job done on Saturday. The Canadian duo of Daniel Nestor of Toronto, Ontario and Vasek Pospisil of Vernon, British Columbia were up 6-2, 6-3 after the first two sets on the formidable Croatian duo of Marin Cilic and Ivan Dodig when Cilic and Dodig roared back to win the final three sets 6-4, 7-5, 6-2. With the win, Croatia went ahead two matches to one.
A major turning point in the Saturday's doubles match came in the third set when Pospisil and Nestor could not hold serve after being up 4-2. Cilic and Dodig roared back to win the final four games of the third set, controlled the fourth set and then dominated the fifth and final set.
The tie between Canada and Croatia is one of eight matches this weekend. The Canada/Croatia winner will play Kazakhstan, who beat Switzerland 3-0. In other action, France leads the Netherlands 2-1. Italy leads Japan 2-1, Spain leads Great Britain 2-1, Germany leads Australia 2-1, the United States beat Serbia 3-0 and Belgium beat Hungary 2-1.