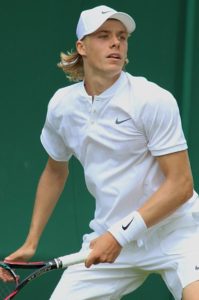 Denis Shapovalov of Richmond Hill, Ontario has advanced to the second round of the 2018 Italian Open from Rome. On Tuesday, Shapovalov upset the 15th ranked Tomas Berdych of the Czech Republic 1-6, 6-3, 7-6 in the first round.
It was an impressive comeback for Shapovalov, who came out flat in his match against Berdych, but took control of the second set with an early break and then beat Berdych 7-5 in the tiebreak after winning the first four points of the tiebreak.
Shapovalov won despite having 52 unforced errors compared to Berdych, who had 26. However Canadian tennis fans should not seem to mind the high number of unforced errors for Shapovalov, as long as the winners count is high. On Tuesday, Shapovalov had 36 winners compared to Berdych's 10.
This is the second straight week that Shapovalov has beaten a former Wimbledon finalist on clay. Last week he defeated Canada's Milos Raonic 6-4, 6-4 in the third round of the Madrid Open. Raonic qualified for the final of Wimbledon in 2016 before losing 6-4, 7-6, 7-6 to Andy Murray of Great Britain. Berdych qualified for the final of Wimbledon in 2010 before losing 6-3, 7-5, 6-4 to Rafael Nadal of Spain.
With the win, Shapovalov will pass Raonic as the top Canadian on the ATP Tour. Shapovalov is currently 29th and Raonic is 22nd. However Raonic will drop in the rankings after the Italian Open because he is not playing due to a knee injury.
There is a new top Canadian on the WTA Tour as well. Francoise Abanda of Montreal, Quebec and Carol Zhao of Richmond Hill, Ontario have each passed Eugenie Bouchard. Abanda is 128th, Zhao is 136th and Bouchard has dropped 51 spots to 169th.
Next up for Shapovalov in Italy is a second round match against Robin Haase of the Netherlands. Shapovalov may want to consult Raonic about Haase as he knows his game pretty well. Raonic advanced to his only ATP men's doubles final of his career with Haase at the 2011 Halle Open in Germany. Raonic and Haase lost 7-6, 3-6, 11-9 in the final to Rohan Bopanna of India and Aisam-ul-Haq Qureshi of Pakistan.