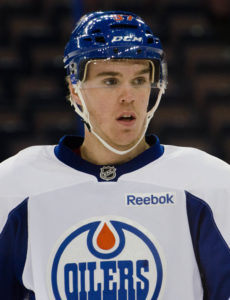 Team Canada has improved to a record of four wins and two losses after its first six games of the 2018 International Ice Hockey Federation World Men's Hockey Championship in Herning, Denmark. On Monday, Canada did not capture a full three points for a regulation win, but were able to collect two points after beating Latvia 2-1 in overtime.
The game winning goal for Canada came by Connor McDavid of Richmond Hill, Ontario. A center for the Edmonton Oilers, McDavid batted the puck out of the air to beat Latvian goaltender Kristers Gudlevskis. Canadian hockey fans should remember Gudlevskis well. He was the same Latvian goaltender who made 55 saves on 57 shots in a 2-1 Canada win in the quarterfinals of the 2014 Olympic Winter Games in Sochi. However this time Gudlevskis is in the New York Islanders system and is now longer affiliated with the Tampa Bay Lightning like he was four years ago.
With the win, Canada is in third place in Group B with 12 points and has clinched a spot in the quarterfinals. A win over Germany on Tuesday and a United States win over Finland, gives Canada second place. However Team Canada can drop to fourth place with a loss to Germany and a Denmark win over Latvia.