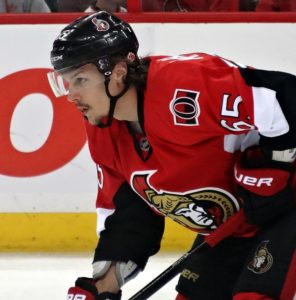 For the second time this week, a Canadian franchise in the National Hockey League has traded their captain. On Thursday, the Ottawa Senators decided to deal their star defenseman, Erik Karlsson, to the San Jose Sharks for centre Chris Tierney of Kewsick, Ontario, defenseman Dylan DeMelo of London, Ontario, prospects Josh Norris and Rudolfs Balcers, a second round draft pick in the 2019 NHL Entry Draft, a first round draft pick in the 2020 NHL Entry Draft and a conditional second round draft pick in the 2021 NHL Entry Draft.
The other Canadian team that traded their captain this week was the Montreal Canadiens. On Monday, the Canadiens dealt Pacioretty to the Vegas Golden Knights in a blockbuster deal.
Karlsson was tied with Mark Stone for the Senators lead in points in 2017-18 with 62. He had nine goals and a team high 53 assists. However Karlsson was only a -25 in 2017-18, the worst +/- he recorded in a single season with the Senators since being a -30 in 2010-11 season. However one should know after going -30 seven years ago, Karlsson bounced back in 2011-12, had 78 points, was a +16 and won the Norris Trophy.
Karlsson would go on to win the Norris Trophy again in 2014-15, and lead the NHL in assists in 2015-16 with 66. Four times Karlsson was a first-team NHL all-star and five times represented the Senators at the NHL All-Star Game.
Tierney played all 82 games for the Sharks in 2017-18. He had career highs in goals (17), assists (23) and points (40). Tierney also had a zero plus/minus rating, eight penalty minutes, seven power play points (career high), four shorthanded points (career high), two game winning goals, 118 shots on goal (career high), 488 faceoff wins (career high), 26 hits, 45 blocked shots (career high), 50 takeaways (career high) and 55 giveaways.
DeMelo played 63 games for the Sharks in 2017-18. He had 20 assists for 20 points, was a -1, 34 penalty minutes, three power play points, 67 shots on goal, 75 hits, 70 blocked shots, 13 takeaways and 16 giveaways.