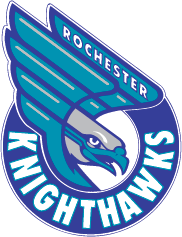 The National Lacrosse League will have a fifth Canadian franchise for the 2019-20 regular season. On Thursday it was announced that the Rochester Knighthawks would be leaving the state of New York and the country of the United States for Halifax, Nova Scotia.
The decision by the Knighthawks will mean that there will be two Canadian NLL franchises in the East Division. The new Halifax lacrosse team, whose team name has not yet been announced, will join the Toronto Rock.
The other three Canadian lacrosse teams are in the Western Division. They are the Calgary Roughnecks, Saskatchewan Rush and a team based in Vancouver. The Vancouver lacrosse franchise used to be called the Stealth, but were recently purchased by the Vancouver Canucks of the National Hockey League, and do not officially have a name yet. An announcement is expected to be made sometime in September.
The Knighthawks meanwhile have had a very strong and successful product while in the NLL. They won four NLL Champion's Cup trophies during their time in the league–in 2007, 2012, 2013, and 2014. The 2012 and 2014 titles came against Canadian teams. In 2012, the Knighthawks beat the Edmonton Rush and in 2014, they beat the Calgary Roughnecks.
One of the Knighthawks' top players is Matt Vinc of St. Catharines, Ontario, who was the NLL Goaltender of the Year in 2017-18. He had an excellent save percentage of .782, posted a record of nine wins and six losses and had a respectable goals against average of 11.37. Three other Canadians on the Knighthawks won NLL Awards in 2017-18. They were Graeme Hossack of Port Perry, Ontario (defensive player of the year), Jake Withers of Peterborough, Ontario (rookie of the year) and Curt Styres of Ohsweken, Ontario, (general manager of the year).