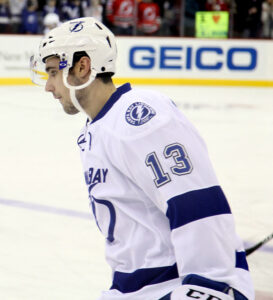 According to Greg Wyshynski of ESPN on Sunday, the Ottawa Senators have acquired center Cedric Paquette in a blockbuster deal with the Tampa Bay Lightning. In the deal, the Senators also acquired defenceman Braydon Coburn of Calgary, Alberta, while the Lightning picked up right winger Marian Gaborik of Trencin, Slovakia, and goaltender Anders Nilsson of Lulea, Sweden.
Paquette had seven goals and 11 assists for 18 points with the Lightning in 2019-20. In 61 games, he was a -1 with 42 penalty minutes, two shorthanded points, 78 shots on goal, 316 faceoff wins, 49 blocked shots, 175 hits, 17 takeaways, and nine giveaways.
Paquette registered his two regular season shorthanded points in 2019-20 wins for the Lightning. On November 25, 2019, Paquette had a shorthanded goal from Anthony Cirelli of Etobicoke, Ontario, and Ryan McDonagh in a 5-2 Lightning win over the Buffalo Sabres. Then on February 29, Paquette had a shorthanded assist on a goal by Yanni Gourde of Saint-Narcisse, Quebec in a 4-3 Lightning win over the Calgary Flames.
In the playoffs, Paquette was part of the Lightning team that won the Stanley Cup in 2020. In 25 games, Paquette had three assists. Coburn also won the Stanley Cup with the Lightning in 2020. In the 2019-20 regular season, he had one goal and three assists for four points in 40 games, and then played in three postseason games for the Lightning in the 2020 playoffs.
Gaborik has missed the last two NHL seasons with a back injury. While, Nilsson had a record of nine wins, nine regulation losses, two losses in extra time, a goals against average of 3.18, and a save percentage of .908 in 2019-2020.