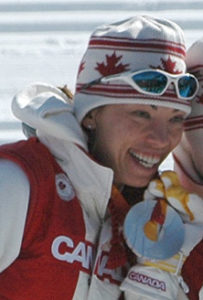 Canadian Olympic gold medalist Beckie Scott of Vegreville, Alberta is being honoured as an officer of the Order of Canada.In an announcement made on Thursday, Scott is being recognized not only for her Olympic gold medal in women's cross country skiing at the 2002 Olympic Winter Games in Salt Lake City, but for her outstanding work with the World Anti-Doping Agency where she has fought for the elimination of doping in amateur sport. In a high profile decision however, Scott resigned from the WADA Compliance and Review Committee this past year because the committee controversially recommended reinstating the Russian Anti-Doping Agency. She continues to be the chairperson for the WADA Athlete Committee.
Scott won her Olympic gold medal in the women's 10 kilometre pursuit. She beat Olympic silver medalist Katerina Neumannova of the Czech Republic by a tenth of a second after posting a winning time of 25 minutes and 9.9 seconds. Scott became the first Canadian Nordic skier to win an Olympic gold medal. However she was not declared the gold medalist (but the bronze medalist) at the time of her event. It was not until 2003 that Scott was given the opportunity to stand on the top of the podium during a special ceremony at Canada Olympic Park in Calgary. That is because it was determined that the Russian Olympic gold medalist Olga Danilova and the Russian Olympic silver medalist Larisa Lazutina tested positive for darpopoietin.
Scott would win a second Olympic medal at the 2006 Olympic Winter Games in Torino. She teamed up with Sara Renner of Golden, British Columbia to win the silver in the women's cross country skiing team sprint.