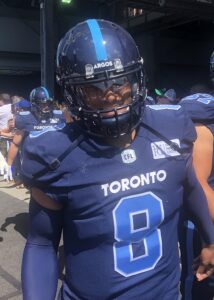 Saskatchewan Roughriders quarterback James Franklin of Oklahoma City, Oklahoma has retired from the Canadian Football League at age 29. Franklin initially signed with the Roughriders on February 11, 2020, but never got to play last season because the Canadian Football League season was cancelled due to coronavirus. Franklin then signed a one-year contract extension on January 12, but then changed his mind about playing in the CFL in 2021, and decided to retire instead.
Franklin spent five seasons in the CFL with the Edmonton Football Club and Toronto Argonauts from 2015 to 2019. He was with Edmonton for his first three CFL seasons, and the Argonauts for his last two seasons. With the Argonauts in 2019, Franklin completed 75 of 111 passes for 822 yards, three touchdowns, and six interceptions. He also had 18 rushes for 83 yards and another two touchdowns.
For his career, Franklin completed 378 passes in 573 attempts, for 4305 yards, 23 touchdowns, and 16 interceptions. He also had 114 carries for 593 yards and 17 rushing touchdowns.
When Edmonton won the 2015 Grey Cup, Franklin was the backup quarterback as Edmonton primarily went with Mike Reilly as their starting quarterback. He then moved up the depth chart from number three to number two when Edmonton traded Matt Nichols to the Winnipeg Blue Bombers on September 2, 2015. Franklin remained as the backup quarterback in Edmonton in 2016 and 2017, before being traded by Edmonton to Toronto for offensive lineman Mason Woods of Maple Ridge, British Columbia on December 12, 2017. With the Argonauts, Franklin led the CFL in rushing touchdowns in 2018 with 14.
The Roughriders meanwhile are expected to have Cody Fajardo as their number one quarterback in 2021. Meanwhile, Tom Flacco is to be the backup. Tom Flacco is the younger brother of Joe Flacco, the backup quarterback for the Philadelphia Eagles.