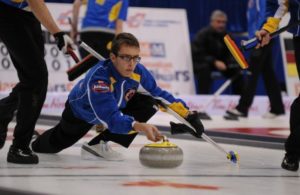 Canada has qualified for the 2022 Olympic Winter Games in Beijing in men's curling after guaranteeing a spot in the quarterfinals at the 2021 World Men's Curling Championship in Calgary, Alberta. On Thursday, Canada defeated Norway 6-4. With the win, Canada improved to a record of eight wins and four losses, and guaranteed at least the position of fifth. A top-six spot at the World Championship was good enough for Canada to qualify for its seventh consecutive men's curling competition at the Olympic Winter Games.
The Canadian team is skipped by Brendan Bottcher of Edmonton, Alberta. In the game against Norway, Canada picked up a deuce with the hammer twice–in the first and seventh ends, and also stole a key point in the fourth end, which put Canada up 4-1 at the time.
Then on Friday, Canada carried its momentum with a 9-6 win over Germany. They closed out the round robin with a record of nine wins and four losses. The Canadian win means they will play either Scotland or Switzerland in the quarterfinals. If the United States beats South Korea on Friday, Canada will finish fourth and play Scotland. However, if South Korea beats the United States, Canada will finish third and play Switzerland. The two countries that have a bye to the semifinals for being in the top two after the round robin are Russia and Sweden.