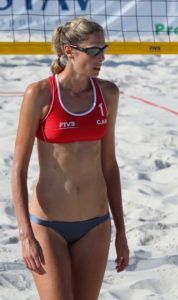 Sarah Pavan of Kitchener, Ontario and Molly McBain of Toronto, Ontario have reached the round of 32 at the 2023 World Beach Volleyball Championships in Tlaxcala, Mexico. On Tuesday in the lucky loser round, Pavan and McBain steamrolled past Ariana Vilela and Karelys Ortiz of Ecuador 21-13, 21-10.
One major reason for the Canadian success was because of the outstanding serving by McBain. She had six aces. In all Team Canada had seven aces, as Pavan had one ace. Team Ecuador meanwhile had zero aces. In all, McBain had 20 total points (14 attack points and six aces). Meanwhile, Pavan had 15 total points (13 attack points, one block point and one ace).
With the win, Pavan and McBain will face the American duo of Kristen Nuss and Taryn Kloth. Nuss and Kloth have had great success together at Louisiana State University at the National Collegiate Athletic Association level. Nuss is women's college beach volleyball's all-time winningest player with 136 wins, and had a 36-0 NCAA record with Kloth.
Pavan ad McBain are one of two Canadian women's teams in the round of 32. They will be joined by the team of Melissa Humana-Paredes and Brandie Wilkerson of Toronto. On Wednesday, Humana-Paredes and Wilkerson will face Niina Ahtiainen and Taru Lahti-Liukkonen of Finland.