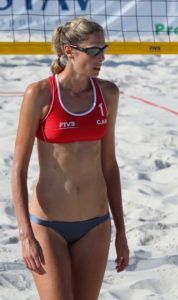 Sarah Pavan of Kitchener, Ontario and Melissa Humana-Paredes of Toronto, Ontario won the gold medal on Sunday at the International Volleyball Federation Women's Beach Volleyball World Tour event in Vienna, Austria. For Pavan and Humana-Paredes, it was their third title this summer as they also won the 2019 Women's Beach Volleyball World Championships in Hamburg, Germany and the Edmonton Open.
In Vienna, Pavan and Humana-Paredes won Pool B with a record of two wins and zero losses. They beat Eva Freiberger and Valerie Teufl of Austria 21-14, 19-21, 15-6 and then Karla Borger and Julia Sude of Germany 22-20, 21-23, 16-14. Pavan and Humana-Paredes then beat Austrians Katharina Schutzenhofer and Lena Plesiutchnig 21-14, 21-16 in the round of 16, Nina Betschart and Tanja Huberli of Switzerland 21-7, 21-17 in the quarterfinals, Agatha Bednarczuk and Eduarda Santos Lisboa of Brazil 21-17, 21-12 in the semifinals and Maria Antonelli and Carolina Solberg Salgado 21-19, 21-16 in the gold medal match. Bednarczuk and Santos Lisboa won bronze. The gold medal for Pavan and Humana-Paredes will give them confidence as they prepare for the 2020 Olympic Games in Tokyo.
Pavan and Humana-Paredes are one of two Canadian women's volleyball teams to have won multiple gold medals in 2019. Heather Bansley of London, Ontario and Brandie Wilkerson of Toronto, Ontario won earlier this year in Yangzhou, China and Las Vegas.