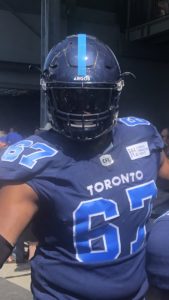 The Toronto Argonauts delivered the biggest upset of the 2019 Canadian Football League regular season to date as they defeated the Winnipeg Blue Bombers 28-27 at BMO Field in Toronto, Ontario on Thursday. The Argonauts also had a sensational comeback as well. At one point, the Blue Bombers had a 20-0 lead, but it was a lead they could not protect as they ended up losing by a single point.
Offensive lineman Jamal Campbell of Toronto, Ontario, was one of two Canadians to score a touchdown for a winning team in week eight. Campbell's touchdown came on a one yard catch from Argonauts quarterback McLeod Bethel-Thompson at 7:43 of the third quarter which pulled Toronto within a convert of tying the game at 20 points apiece. Campbell, who is 6'7″, 300 pounds, was an eligible receiver at the time of his touchdown.
The fact that the Argonauts beat the Blue Bombers was significant. Toronto entered the game with a record of zero wins and six losses and Winnipeg only had lost one game this season as they were 5-1 before losing to the Argonauts.
The other Canadian on a winning team to record a touchdown in week eight was Brad Sinopoli of Peterborough, Ontario. Sinopoli had a five yard touchdown catch in the third quarter from quarterback Dominique Davis which put Ottawa up 20-17 at the time in their game against the Montreal Alouettes. Sinopoli, finished the game with seven catches for 21 yards in a 30-27 Ottawa overtime win. The biggest story in Ottawa's win however came on special teams. That is because DeVonte Dedmon had a kickoff return and punt return for a touchdown. In other week eight action, the Saskatchewan Roughriders beat the Hamilton Tiger-Cats 24-19 and the Calgary Stampeders beat the Edmonton Eskimos 24-18.