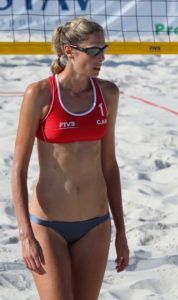 Melissa Humana-Paredes of Toronto, Ontario, and Sarah Pavan of Kitchener, Ontario are in the semifinals of the 2021 World Beach Volleyball Tour Finals in Cagliari, Italy on Saturday. In action on Friday, the Canadians came through with victories over Switzerland and the United States to remain undefeated.
In Canada's win over Switzerland, Canada won in straight sets, 21-15, 21-11. The Swiss team comprised of Anouk Verge-Depre and Joana Heidrich. Then despite a horrendous start where Canada lost the first seven points, Humana-Paredes and Pavan exemplified tremendous resilience and confidence in coming back to win 13-21, 21-14, 15-11. The American team comprised of Kelly Claes and Sarah Sponcil.
Despite the loss, Claes and Sponcil still qualify for the quarterfinals. They will next play the American duo of April Ross and Alexandra Klineman, who won the gold medal at the 2020 Olympic Games in Tokyo in 2021. Both Ross and Klineman along with Claes and Sponcil finished pool play with identical records of two wins and two losses. The other quarterfinal matchup has Julia Sude and Karla Borger of Germany against Agatha and Duda of Brazil. The winner of the all-American battle will play Canada in one semifinal, while the Germany/Brazil winner will face Nadezda Makroguzova and Svetlana Kholomina of Russia.