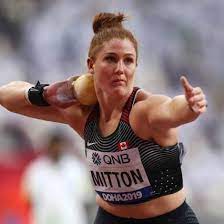 Sarah Mitton of Liverpool, Nova Scotia won the silver medal on Saturday in the women's shot put at the 2023 World Athletics Championships in Budapest, Hungary. It was Canada's fourth medal at the World Athletics Championships, as the previous three were gold medals.
Mitton posted a score of 20.08 metres. Chase Ealey of the United States won the gold medal with a throw of 20.43 metres. Gong Lijiao of China won the bronze medal with a throw of 19.69 metres. Mitton reached the podium by 0.39 metres over Auriol Dongmo of Portugal, who finished in fourth place with a throw of 19.69 metres. Mitton's best throw was her fifth throw.
Mitton's throw of 20.08 metres was 0.25 metres less than her national record of 20.33 metres. That came at the 2022 Canadian Track and Field Championships in Langley, British Columbia. Natalya Lisovskaya of Alegazy, Soviet Union has the world record. She posted a throw of 22.63 metres at the Brothers Znamensky Memorial event in Moscow on June 7, 1987.
There is no doubt that Mitton has emerged as a world class female shot putter. She beat Lijiao, who is a two-time world champion and reigning gold medalist from the 2020 Olympic Games in Tokyo in 2021. Mitton's silver medal in Budapest will give her confidence as she prepares for the 2024 Olympic Games in Paris.