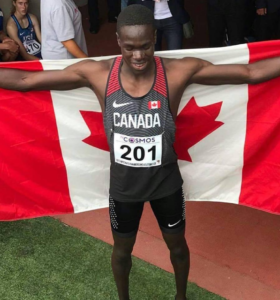 Marco Arop of Edmonton, Alberta won the gold medal on Saturday at the 2023 World Athletics Championships in Budapest, Hungary. The 24-year-old won his second career medal at the World Championships. Arop previously won a bronze medal at the 2022 World Athletics Championships in Eugene, Oregon.
Arop posted a winning time of 1:44.24. Emmanuel Wanyonyi of Kenya won the silver medal with a time of 1:44.53. Ben Pattison of Great Britain won the bronze medal with a time of 1:44.83. Arop reached the podium by 0.67 seconds. Adrian Ben of Spain finished in fourth place with a time of 1:44.91.
Arop's personal best in the men's 800 metres came in Monaco in 2021. There he had a time of 1:43.26.
Arop was the third Canadian to win a medal and a gold medal at the 2023 World Athletics Championships. He followed Ethan Katzberg of Nanaimo, British Columbia and Camryn Rogers of Richmond, British Columbia who won the gold medal in the men's hammer throw and women's hammer throw respectively.
The gold medal will give Arop confidence as he prepares for the 2024 Olympic Games in Paris. A lot was expected from him at the 2020 Olympic Games in Tokyo in 2021, but he finished in 14th place overall and did not make the final.