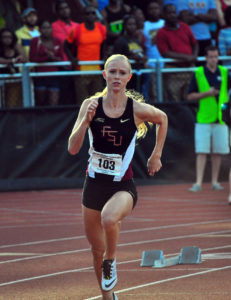 Sage Watson of Medicine Hat, Alberta has won Canada's 26th gold medal at the 2019 Pan American Games in Lima, Peru. On Thursday, Watson won the gold medal in the women's 400 metre hurdles for her first career Pan American Games gold medal.
Watson posted a winning time of 55.16 seconds. Anna Cockrell of the United States won the silver medal with a time of 55.5 seconds. Rushell Clayton of Jamaica won the bronze medal with a time of 55.53 seconds.
Watson reached the podium by 0.69 seconds. Zurian Hechavarria Marten of Cuba finished in fourth place with a time of 55.85 seconds.
The time of 55.16 seconds was a season best for Watson in the women's 400 metre hurdles. Watson's personal best is 54.52 seconds which was set at the 2017 National Collegiate Athletics Association Division I Championship in Eugene, Oregon. Diami Pernia of Cuba continues to have the Pan American Games record. That was set at the 1999 Pan American Games in Winnipeg, Manitoba, when Pernia ran to a winning time of 53.44 seconds. The world record belongs to Dalilah Muhammad of the United States. Muhammad ran to a time of 52.2 seconds at the 2019 United States Track and Field National Championship in Des Moines, Iowa. The gold medal for Watson will give her confidence as she prepares for the 2020 Olympic Games in Tokyo.