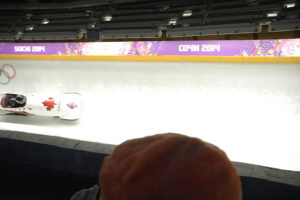 Canadian Olympic bronze medalist Lyndon Rush of Sylvan Lake, Alberta has been inducted into the Alberta Sports Hall of Fame in Red Deer, Alberta. In an announcement made on Monday, Rush won a bronze medal in the four man bobsled competition with David Bissett of Lethbridge, Alberta, Lascelles Brown of Calgary, Alberta and Chris le Bihan of Grande Prairie, Alberta at the 2010 Olympic Winter Games in Vancouver.
Rush also won a silver medal in the two-man at the 2012 World Bobsled Championships in Lake Placid, New York. His brakeman was former Canadian Football League player Jesse Lumsden of Edmonton, Alberta.
Rush will be one of nine inducted into the Alberta Sports Hall of Fame in 2019. The others are former National Hockey League player Mike Rogers of Calgary (who had three straight 100 point seasons with the Hartford Whalers and New York Rangers from 1980-1982), former University of Alberta Golden Bears football coach Jim Donlevy of McLennan, Alberta (won Vanier Cup in 1972 and 1980), artistic swimming builder Dorothy Padget of Calgary, water skier Kreg Llewellyn of Innisfail, broadcaster Rob Kerr of Calgary, wrestler Herman Dorin of Didsbury, wrestling builder Ed Thresher, multi-sport builder George Stohart, and the three-time world champion curling team of Randy Ferbey, Dave Nedohin, Scott Pfeifer and Marcel Rocque of Edmonton, Alberta.